Fundamentals
Fundamental Analytics is based on the essential principle that fundamental supply and demand influence price. Under this principle, users benefit from a wide range of fundamental data across commodity types in an accessible format to understand the impact that supply and demand data have on price. The breadth of data available on Fundamental Analytics makes it an obvious choice for traders, institutions, and any users who need more accessible research on futures and commodities. Whether it is the weekly Department of Energy data release of Crude Oil inventories or production, or the U.S. Department of Agriculture data release of corn and soybeans weekly exports, the Fundamentals Data module is both comprehensive and focused. We work with you to make sure that we include any type of fundamental data valuable to your field.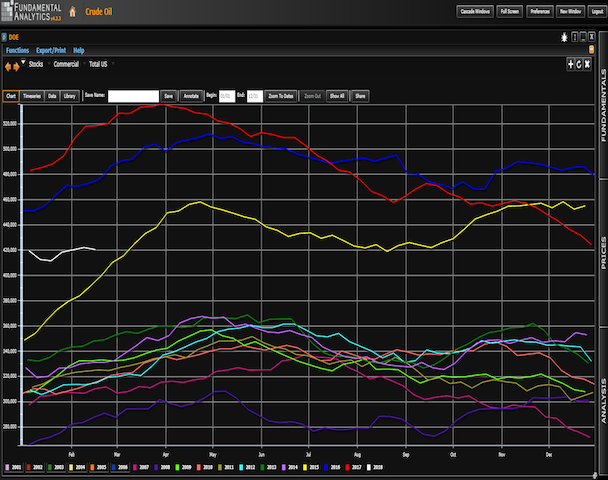 Futures Pricing
The pricing module reveals a wide variety of commodity futures prices data that are easily graphed and clearly presented across commodity types. Users can view prices as outrights, or in calendar or product spreads, forward curves, open interest, implied and historical volatility, along with a variety of other ways to view and manipulate data. The chart on the right shows a natural gas calendar spread, which illustrates how prices react to low storage levels of natural gas. By comparing fundamental and pricing data on Fundamental Analytics, you can anticipate the affect fundamentals have on price.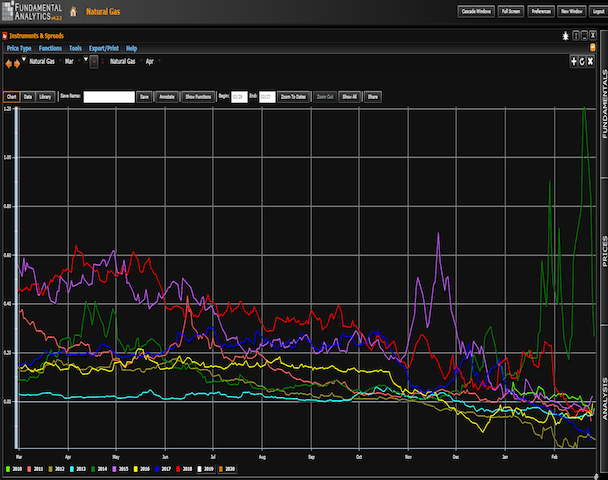 Analysis
The analysis module is unrivaled in providing a user-friendly way to integrate fundamentals and technical data. In the analysis module, you can merge fundamental data and price data in order to research and view the relationships between price levels and direction, along with the impact that fundamental data can have on price. This time series chart shows how hedge funds positions in crude oil track price. Fundamental Analytics allows the integration of fundamental and pricing data across all our commodities.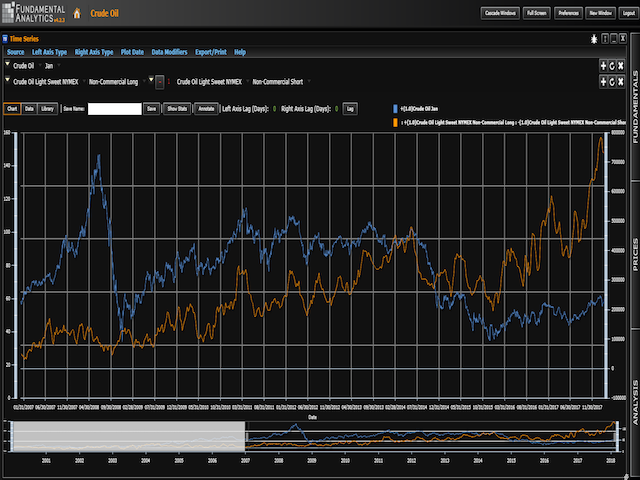 Customized Support
---
We are committed to making our product work for the needs of your business and profession, and offer unparalleled support with our solutions, including assisting you with your analysis. If there is something you need help with at any time, Fundamental Analytics and BlackSummit are here to help – whether that is a data source not readily available or if you would like assistance analyzing trends.
Products
---
Fundamental Analytics offers fundamental data, futures pricing, and analysis for the following commodity types:
Energy
Crude Oil and Refined Products | Gasoline | WTI Crude Oil | Brent Crude Oil | Natural Gas | Heating Oil | Gasoil
Agriculture
Corn | Soybeans | Soybeans Meal | Soybean Oil | Wheat | Softs | Cocoa | Coffee | Cotton | Meats (Feeder Cattle, Lean Hogs, Live Cattle, Milk)
Forex
USD | EUR | GBP | Japanese Yen | Canadian Dollar | Swiss Franc | Brazilian Real | Mexican Peso | Australian Dollar | Chinese Yuan | Argentinian Peso | South African Rand
Financial Indices | Coming Soon
S&P 500 | Dow Jones Industrial Average | Nasdaq | FTSE 100 | Nikkei | SSE Composite | Russell 1000 | Russell 2000 | VSTOXX
Precious & Base Metals | Coming Soon
Gold | Silver | Platinum | Palladium | Copper | Zinc | Lithium
Digital Currencies | Coming Soon
Bitcoin | LiteCoin | Ethereum
Missing something?
We welcome input on any commodities which you would like to see added. If you don't see the commodity you need, contact us for more information.