Our Mission
---
At Fundamental Analytics, our mission is to assist you in building a more profitable trading strategy for the commodities that affect your business.
Our Concept
We give you the tools to make better trading decisions, whether you are a commodity trader or a farmer trying to market your crop at the best time. All data sets are provided in an intuitive, easily accessible format so you can quickly retrieve data and information that supports your work. Our goal is to give you access to all the fundamental and technical data that you need in one place. With our user-friendly interface, you get unparalleled access to the data and tools that matter to your business. By spending just one hour on Fundamental Analytics, you will discover that it takes just a short time to graph complicated and detailed trading spreads, examine historical price fluctuations in certain commodities, or see how the position of hedge funds can influence oil prices. These features help you anticipate and respond to price fluctuations.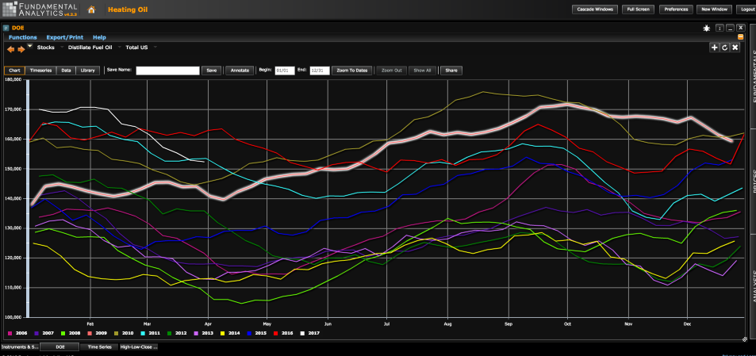 Making Important Data Simple
Fundamental Analytics collects data and pertinent information on all the commodities and areas which we cover from a wide variety of sources such as the CFTC, DOE, USDA, CPC, to name just a few. Gathering all these data into one place can be cumbersome and time consuming for the user. Our platform includes fundamental data together with commodities futures and cash pricing data. Of course, price data includes a wide variety of commodity futures and cash pricing.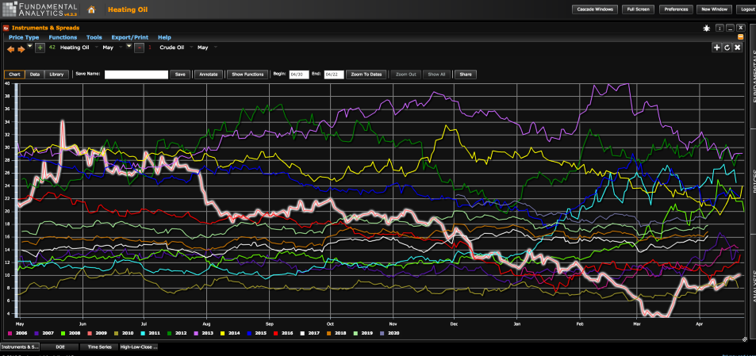 Fundamental Analytics begins as a boutique consulting service for oil industry hedgers, supplying charts, data analysis, and commentaries.
A website is developed providing the data, charts, and analysis to clients.
Website becomes interactive, allowing the users to view, manipulate, download data and charts in a browser based application
Grains and agricultural commodities are added, followed by a financial module in 2015 that covers financial indices, forex, and metals.
Fundamental Analytics expands its services, upgrades its platform software, and reaches out to a wider audience. Services now include customized advisory/consulting services focusing on analysis and strategy formulation.
---
With a range of expertise and experience, find out how our team can help you.
Joel Fingerman Founder/Managing Partner
Joel earned his Ph.D. in mathematics from the University of Chicago and became a professor of quantitative methods in the Walter Heller Business School at Roosevelt University in Chicago. Joel started Fundamental Analytics as a boutique consulting firm for oil industry hedgers and speculators, providing charts, data analysis, and commentaries. As the demands for consulting increased, Joel left Roosevelt University to consult full-time, which led to the development of Fundamental Analytics in its current form.
Andy Quirk Director of Operations
Andy graduated with an M.A. from the Patterson School of Diplomacy and International Commerce at the University of Kentucky, specializing in commerce and political economy. Andy's main interest in Fundamental Analytics is showing how macro trends affect everyday prices. Understanding how long-term trends affect markets is pivotal to the mission of Fundamental Analytics. Andy is most excited about seeing how understanding and capitalizing on trends can improve the profits of small businesses.
John Charalambakis Managing Director, Blacksummit Financial Group
John earned his Ph.D. in economics and an MBA with an emphasis on macro-trends and financial markets. He has been a Professor of Economics and Finance, as well as an advisor on asset allocation for over twenty years. As well as his work in financial consulting, John has worked alongside government agencies, corporations, and non-profit groups in several countries, providing recent support to the Congressional Financial Crisis Inquiry Commission.
Laura Hochstetler Financial Analyst, blacksummit financial group
Laura recently qualified as a Certified Public Accountant, holding a B.S. in Accounting and B.A. in Mathematics and Communications. Her experience includes working for a Fortune 500 company in the investment advisory sector, and she currently focuses on financial research and modeling as well as business valuations.
BlackSummit Financial Group
---
BlackSummit Financial Group manages and works along side Fundamental Analytics, providing analysis and customization services for the users of Fundamental Analytics. With a wide range of knowledge in economics, financial markets, and financial analysis, BlackSummit can assist users in interpreting and analyzing trends on Fundamental Analytics.